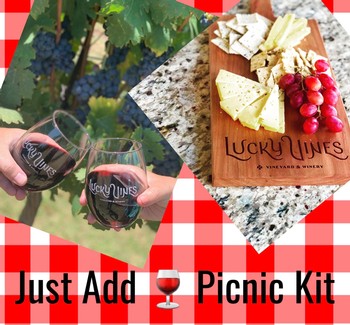 Just Add 🍷 Wine Picnic Kit is all you lack to the perfect picnic. This kit includes 2 logo stemless wine glasses and a to-go cheeseboard.
Curbside Pick-up ONLY Friday 4-8pm, Saturday 2-8pm. Please add your eta for pick up in your order notes or call 254-335-0099 to order.
Board includes: 2 choices of 2.5oz of Veldhuizen cheese, 1 Serving of toasted sweet onion crackers & 1 Serving of Savory Seed crackers and a bundle of organic seedless red grapes.
Cheese Options: Classic Chedder, Gouda, Dublin Karst and Jalapeńo Cheddar. (If you do not specify, we will choose for you based on what is available)
*Summer Sausage is available as an addition! If you would like Summer Sausage, add it to your cart on the website or make sure to request on your phone order.
(We will NOT ship or deliver any to-go food options)